The weekend away put a little blip into progress on the rose, but I have now polished off every piece of it. I ended up settling for trying to make the rose itself as modular as possible, that way I can use each part in a different way over and over in any shape rose bush I made want to add to the scene. All the flower copenents were high-poly modelled (as shown in my last update to the railings), the rest was painted by hand in photoshop and arranged in 3ds Max.
Here is the diffuse texture sheet for the rose: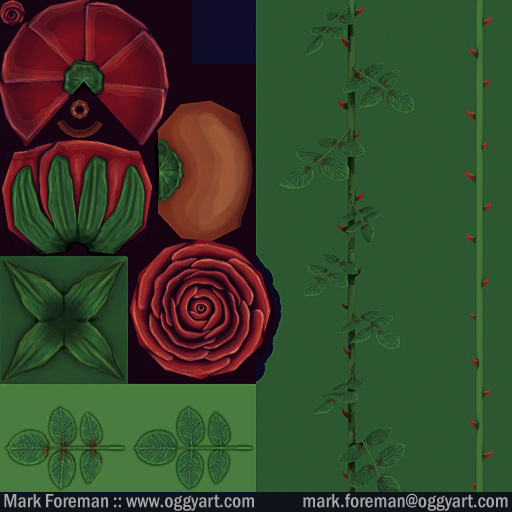 The rose model is constructed by extruding planes with the stem textures on along a path, I use the leafy one for the body of the plant to help bulk it out without using too many of the more expensive (triangle wise branches), and the bare thorny one is used for it's climbing stems. I then used the paint object tools under the graphite tool-set to randomly add branches and scale them linearly automatically from top to bottom, with final positioning, scaling and rotating all done by hand afterwards.
I've also been working on a cart wheel that will act as a detail piece, and maybe later as part of a whole cart. This is my first stab at wood and I'm extremely pleased with the results, the normal may be a little strong at the moment I feel, so I plan on toning that down a little. This is the low poly with the normal and a plain colour+AO diffuse applied. I'm going to paint the texture up with details and highlights tomorrow.